Skip to Content
Sunshine Carpet & Flooring offers stylish, carefully manufactured area rugs to put the finishing touches on your floors. Area rugs are for more than just hard floor surfaces. They're suitable for carpeting as well for additional comfort and protection. These pieces can also tie rooms together by matching the colours of the walls or furniture, which some floors don't have the ability to do. If you're contemplating area rugs for rooms in your home, speak with one of our flooring specialists to learn about the different types available, plus, discover our custom area option which specifically designs and personalizes style and size to fit your room/area.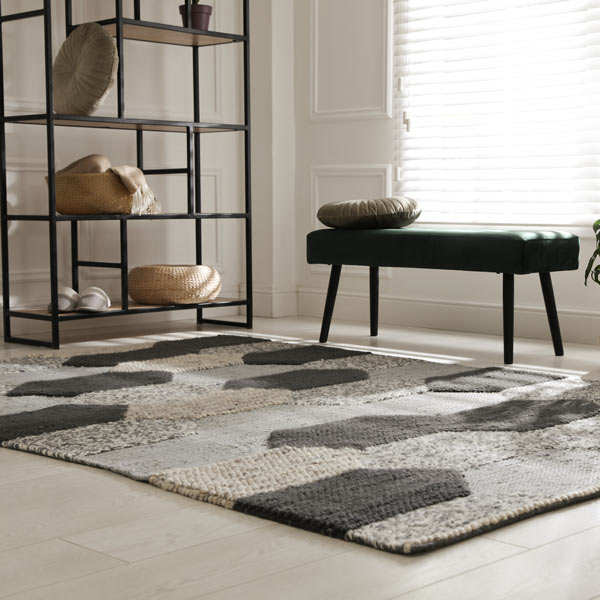 Area Rugs by Stevens Omni
We've partnered with Canadian rug distributor, Stevens Omni, to offer our customers some of the most fashionable variety of area rugs geared for homeowners. No matter your taste or style, you'll find options matching your preferences, including the most up-to-date colour trends for today's popular styles. With over 30 style collections, there are large and small area rugs in various shapes, including square, rectangular, round, and runners.
Protect Your Floors & Add Style
While many hardwood floors and carpets are manufactured to withstand heavy traffic from adults, children, pets, and moving furniture, area rugs offer extra protection. In addition to this benefit, you'll notice some other advantages of adding area rugs to some rooms.
Reduced Noise
Rugs do this in a couple of ways. For one, they're quieter to walk on than a hardwood floor, and secondly, they absorb sound from the air for a quieter experience.
Furniture Position
Sometimes furniture can seem lost in a room. Area rugs are anchors and set the stage for coffee tables, sofas, chairs, and more.
Inexpensive Redesign
If you want to give any room a quick makeover without breaking the bank, an area rug will do the trick.